70Plus Ski Club…Are you a Member?
 Amazement…Fascination… Awe…jolt through your body when you merge with the next snow skier in the lift line who just happens to be 71 years of age.
From conversation riding the lift up together, Kathy and her husband Bob, age 74 who himself is a snowboard instructor, started skiing in their 30s and just love it.
     As the lift glided down for our departure point leading only to blue, aka moderate, and black, most difficult, runs this was Kathy's last run,  but only because she had to meet her athletic trainer at the gym in an hour.
     In wanting to know Kathy's history and secrets to staying on the slopes, moderate to difficult at that, I forgot to ask her if she was a member of the 70+Ski Club.
     This is a club of seniors, you guessed it, 70 years or over, notice I did not say 'or older' who gather at different snow skiing locations a number of times a year during the snow skiing season to…yes you got it, to snow ski together.
     At age 76, Lloyd Lambert started the club because he saw his friends and ski buddies give up the sport due to the expense and the fact they were losing their skiing buddies.  As an avid racer and skier in his day, Lloyd used his ski business connections to offer free or discounted lift tickets and to organize ski events to bring seniors together.
     Richard Lambert, Lloyd's grandson, is the administrator of the club today and organizes trips and events for the 3000+ members here in the US.  This year's ski trips total 8 including one to Meribel France along with two races concluding in March at Hunter Mountain NY with their annual meeting.  Race categories range 70+, 75+, 80+, 85+, and 90+ male and female.
     I spoke to their recent gathering at Big Sky Montana.  But who needed to speak to them about dementia prevention?  Long time member Tom Hoober, 78 from Lancaster PA, and I found each other on a lift which emptied over only strong blue runs and he made it down before me.
Greeting again and not knowing our soon connection, we rode the lift up again and skied down together which was an embarrassment as he elegantly flowed down the hills and I nervously hesitated and wobbled at every dip.  By spending the afternoon skiing and riding the lifts together, I discovered Tom loves to ski because of the rush experienced while cutting through the wind gliding down the snow as well as the sense of accomplishment giving you energy for one more run.
     John Orton, from Albany, NY, says the snow can shut you in and give you the winter blues.  Since depression and loneliness are a precedent to dementia, John has it right when he says you must accept the weather, the snow and just embrace it. Snow skiing is the perfect way.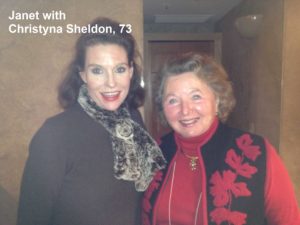 Of all in the group, the majority were woman.  Christyna Sheldon, 73 from the Tampa FL area says the club gives her the perfect opportunity to meet new people and make friends.  Since her husband passed away, she has a readymade venue to continue her love for snow skiing and meet/make new friends.
     Ellie Rothman, 80 ½, from Florence MA has a passion for snow skiing because it makes her feel so good.  When the weather is right she drives about an hour once a week to her neighborhood snow skiing area and meets up with friends. The problem she says is keeping all her friends.  Once she went to 10 funerals in 8 weeks and realized that not only must she keep going, but that she must also have a positive attitude and let nothing 'get you down'.  A little scotch now and then helps too, she quips.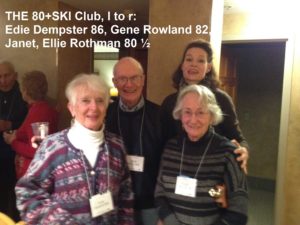 Jackie Godo-Kiss, 86 from the Hermosa Beach CA is perhaps the most adventurist.  Not only is she a black diamond skier, daily she practices yoga on her paddle board in the middle of the Pacific Ocean where she is an avid shark sighter.
     With every new person met, the definition of 'anti aging only adding years' keeps coming into focus.
     But the question 'how' still remains. How does a person in their 70s or 80s snow ski?  The common denominator all 100 or so snow skiers/snowboarders on this Big Sky trip possess is the common denominator every person who wishes to simply add years to their life with no pain and no dementia should possess.  The common denominator:  consistent, continual—EVERY DAY– aerobic exercise.
     EVERY person…every snow skier in the 70+group I interviewed, all said the same thing.  What keeps them on the slope as well as perky in life is aerobic exercise, everyday.
     Remember Kathy who had to make one last run before she met her trainer?  She is at the gym every day.  Along with aerobic exercise, Edie Dempster, 86 from Poulsbo WA claims her 14 weight lifting machines at her gym are the trick.  Resistant training/practice makes her "super flexible" and keeps her active.
     "Active" was the next common denominator all possessed.  "After exercise", Edie Dempster continues, "you have to stay on the go and be on the go. When you retire, exercise and being active are your new career, or should be your new career, snow skiing or not. "
     Tom Hoober used to be an avid tennis player.  Because of bad knees, weights, spinning, the elliptical and the treadmill challenge him daily.  His snow skiing buddy Chip Kirchner, in his mid 70s still plays tennis three days a week.  During his off days he plays Pickle Ball with Tom.  They also enjoy Paddle Tennis.  Exercise not only keeps them active but helps them fall into a social scene after exercising for cocktails or meals.
     The 70Plus Snow Skiing Club definitely portrays a prime example of only adding years to your life and not aging.  And in adding these years they are not adding pain nor dementia.  Whether you snow ski or not, exercise and being socially and mentally active are the keys to adding years to your life.  Have you or are you ready to start your new career exercising and being active?
     "Even though I am very active on the weekends, I do take the weekends off from exercising," states Edie Dempster.  At a fascinating 86, she's earned it.
https://janetrichpittman.com/wp-content/uploads/2018/02/Christyna-Sheldon-73-tag.jpg
2448
3264
Janet Rich Pittman, SCALA, CDP, MCWC
https://janetrichpittman.com/wp-content/uploads/2021/08/JanetRichPittman-Web-Header-01-1030x178.jpg
Janet Rich Pittman, SCALA, CDP, MCWC
2015-03-03 20:03:46
2019-05-30 14:57:34
70Plus Ski Club…Are you a Member?