Read my Latest Book
9 Signs You're Experiencing Brain Drain and How to Keep Your Brain Fully Charged to Ward Off Dementia
Janet Rich Pittman is on a mission to help people fight the effects of aging by powering up their brains. As a Licensed Dementia Administrator and Certified Dementia Practitioner, she has seen firsthand what dementia can do to its victims and their families—and her years of research have taught her that it's possible to prevent dementia, even REVERSE IT and reclaim your brain.  
Counseling individuals, families and couples on how to restore their memory, regain their brain energy and reclaim their brain health is Janet's service now.
From her recent training based on clinical trials and scientifically proven studies, Janet has developed and facilitates a 9 Step 3 Tier Alzheimer's/dementia Memory Reversal/Retention Road Map lasting 3 to 4, up to 12 months where she helps to bring back fully functioning minds.
Janet helps you to find and keep your memory, so you can continue to enjoy life with your friends and family and make lasting memories.  Schedule a free call here with her to see how she can help you or yours.
A bit more on Janet:
She is the co-founder of Gulf Coast Dementia Services, a nonprofit dedicated to advocating for senior health, and served as the Vice President of its board of directors. She is also the co-founder and co-facilitator of the Alzheimer's Dementia Support Group of South Alabama, for which she was trained and vetted by the National Alzheimer's Association. She teamed up with the South Alabama Regional Planning Commission to establish the first ever Alzheimer's/Dementia Hotline of South Alabama, a free consultation service for patients and families in need.
Join
"

The Brain Health Revolution

"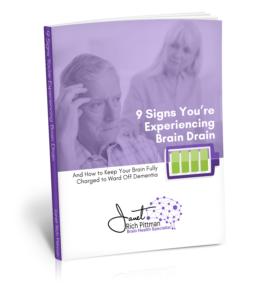 To receive quick tid bits, check lists, hints and facts on brain health (from me–I won't share or wear out my welcome) so to keep your brain fully charged join THE BRAIN HEALTH REVOLUTION.
As a thank you, get and read my booklet 9 Signs You're Experiencing Brain Drain and How to Keep You're Brain Fully Charged to Ward off Dementia.
: