President Trump, to quell the Alzheimer's questions, here is what to do: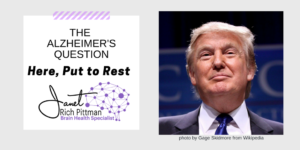 (a quick 3 minute read)
Former White House Aid Omarosa Manigault Newman in her book Unhinged claims that changes in President Trump's actions stem from his mental decline which is leading to dementia, specifically Alzheimer's. This 'does Trump have Alzheimer's?' question has been raised by opponents since his candidacy. And now various articles from Business Insider, The Hill, Page Six, Washington Examiner, USA Today, The Splinter and The Wall Street Journal , while covering Omarosa and her new book, print the question again.
The August 14, 2018 issue of Quartz Magazine specifically points out 4 examples – each of which don't have scientific backing. In my article, "Does Trump Have Dementia? Not So Fast! ", I countered each of Omarosa's accusations WITH scientific backing. Here is the article for your review, a quick 5 minute read.
Coupled with Business Insider's article January 16, 2018 by Hilary Brueck "Trump got a perfect score on a screening test for dementia and Alzheimer's", both articles should nail shut the coffin of continual questions pertaining to Trump suffering from mild cognitive behavior.
But let's just say, Mr. Trump does have dementia percolating in his brain.
But let's just say, Mr. Trump does have dementia percolating in his brain. He is the president of the United States, now what? It's not like a parent, where you are troubled by their actions, consequently seek help from a neurologist. Plus in Brueck's article, Trump has already been through the neurological testing.
'Presidential Brain Health Counsel'
The last step to quell the question: create a Presidential Brain Health Counsel.  Have the top Trump advisers discretely gather three, five to seven dementia experts comprised of PhDs, physicians and neurological nutritionists scattered across the county who are responsible for reversing the various diseases of dementia. After observation, blood and nutritional testing as well as brain scans and secretive mirrored observations to reflect response times, thought processing and oxygen intake(physical exertion)[your general neurologist just isn't going to do that], the group could issue a report on President Trump's current neurological health with a prognosis for his future head brain health. This assessment report, from the nation's top dementia experts, would give the final answer, once and for all.
I've created a list of 17 scientific leaders who have reversed and curtailed the progression of various dementias, including Alzheimer's. A 'Presidential Brain Health Counsel' could surely be appointed from this list. I would be more than happy to offer my continual advisement to the White House.
https://janetrichpittman.com/wp-content/uploads/2018/08/Oamarosa-Trump-Alz-Put-To-Rest-gRaphic.png
512
1024
Janet Rich Pittman, SCALA, CDP, MCWC
https://janetrichpittman.com/wp-content/uploads/2021/08/JanetRichPittman-Web-Header-01-1030x178.jpg
Janet Rich Pittman, SCALA, CDP, MCWC
2018-08-23 12:14:48
2019-09-03 21:33:31
President Trump, to quell the Alzheimer's questions, here is what to do: