What to do with Willie… An Alzheimer's Dilemma
This article is a reprint from The Mobile County, Alabama Sherriff's Magazine. The story is true.  Names have been changed for privacy.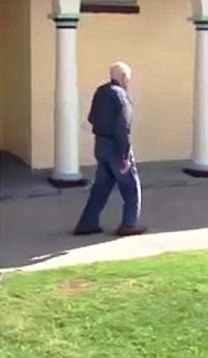 Bob, a police officer of one of Mobile's suburbs, had been called to investigate and remove a middle to elder age man caught urinating in a corner of the local elementary school.  With Willie dangling while walking and greeting the little ones, this fella had to be removed from campus.
     Once Bob gingerly convinced him to put up Willie and accompany him to the patrol car, Bob began the real questioning.  His routine interrogation, given in a smooth, friendly voice, got nonsense gibberish, but the hanging neck tag Bob caught sight of, quickly gave all the answers.  It read:  James 'Jim' Smith, 123 Main Street, City, AL, 12345 Alzheimer's Victim, ICE: Liz Smith Greenwood 251.123.4567.
     According to Liz, Mr. Smith's daughter, after she secured a last minute doctor's appointment, she could not get a sitter for her father who lives with her and her family.   This was the first time leaving her father alone since she moved him in 5 months ago to care for him full time after quitting her job.
     With Liz's front door wide open and the dog missing, the situation was reconstructed.  Mr. Smith let the dog out of the front door after continuously seeing him scratch the door.  After visually following the dog scurrying about the yard, Mr. Smith quickly shifted his attention to the children on the school playground, four houses down.
     Being a retired school principle, this was 'the place to be' in his mind and once there, Mr. Smith suddenly became aware of his hygiene calling.  Sighting a plastic white urn in the corner as the commode, he stepped up to relieve himself.  Now…Bob understood.
     Liz's gamble did not pay off and that is where Gulf Coast Dementia Services, GCDS, a 501c3 charity serving under Gulf Coast Senior Services can help play the hand many families are dealt when having to care for their demented parents. Families want to preserve their parent's independence and keep them at home as long as possible.  When needed, a certified dementia caregiver can be scheduled to 'sit' with a demented family member.  These caregivers, schooled in responding to and reacting with dementia victims, offer family caregivers time off.
     Yet insurance, except for some long term health policies, does not pay for sitter service.
     "Healthcare costs to the extreme poor are government subsidized. Wealthy individuals have their own means of coverage.  Regarding dementia care, the vast middle class", states Gina Germany, board president of GCDS, "is the segment of population left with no dementia health care help.  That is until now.  Through grants from private foundations and public entities we now offer certified dementia care to those in need, at a substantially discounted rate."
     For an application or further information, visit http://www.gcseniorservices.com.
https://janetrichpittman.com/wp-content/uploads/2018/02/What-Willie-man-walking-FINAL.jpg
358
208
Janet Rich Pittman, SCALA, CDP, MCWC
https://janetrichpittman.com/wp-content/uploads/2021/08/JanetRichPittman-Web-Header-01-1030x178.jpg
Janet Rich Pittman, SCALA, CDP, MCWC
2015-04-16 19:48:33
2019-06-10 14:35:40
What to do with Willie… An Alzheimer's Dilemma