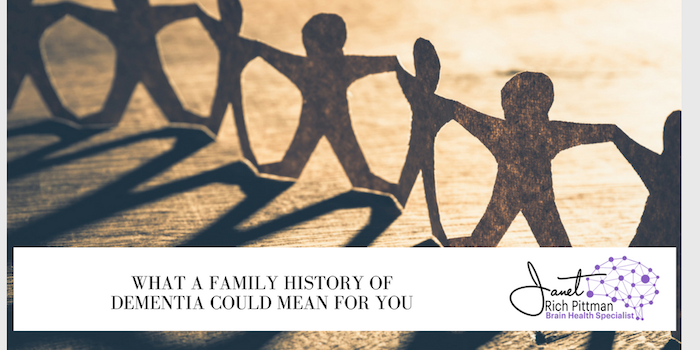 (8 minute read) At social events, from church to ballgames to cocktail time, stories of our children and parents seem to bubble up in every conversation. Oftentimes, the brain condition of our parents weasels its way into those discusses. And understandably so, since 1 in 10 human beings age 65 and older suffers from some form of dementia. The statistics are even grimmer for those 85 and older, a whopping 1 in 2.5 are drowning in it!
As a society, we are now facing our third generation of Alzheimer's and other dementia with no cure.  We are seemingly helplessly watching it vacuum away the minds and lives of our loved ones. Many of us have buried grandparents who were scourged by the disease, and several see our parents slipping away. When we experience the brain fog, poor balance, and exhaustion of those senior moments, we worry that we might succumb to it too.
By studying global populations for an answer, we encounter the healthy Blue Zones around the world.
Dan Buettner, in an article he authored in National Geographic Magazine, revealed certain areas in which the elderly live to be 80, 90, or even older than 100, with strong minds and bodies, then finally die of old age. How do they do it, while our own parents and grandparents in a supposedly well-nourished nation cannot remember our names or whether or not they took their medication this morning? We can glean a lot from the unifying characteristics of the people who live the longest in those Blue Zones:
They eat no processed, packaged foods.
Sitting still is not part of their daily routine; they are constantly active, exercising their bodies and minds.
Along with getting plenty of sleep, stress is not in their lives.
They enjoy a sense of community and are committed to their families, friends, and a life purpose. This, in turn, helps them remain active and play a vital role.
Closer to home, some folks exhibit these same characteristics, albeit not the nutrition aspect, yet they slowly sink into the abyss of Alzheimer's or other types of dementia. What, then, is the problem?
In search of the root cause of why some succumb while others do not, nearly 200,000 published studies, representing years and years of scientific research, have been conducted on Alzheimer's.[1] These studies indicate that dementia is not a normal part of aging. On the contrary, it is an actual disease, and it can be stopped and even reversed in most cases. The only way to stop disease is to discover and halt the root cause, so we must begin with a basic understanding.
What is dementia?
Simply put, dementia is the death of a significant number of brain cells, specifically neurons and their connecting cells, the synapse, which leads to cognitive impairment. Other supporting cells, the glia, die as well. The fatality of these cells causes the brain to malfunction, and we experience cognitive impairment. Ultimately, because the brain cannot function as intended, it cannot communicate properly with the organs, and we face total body death.
What is cognition?
Cognition is defined as our ability to think, feel, and act upon new information, to process thoughts and take or make physical actions based upon those thoughts.
What causes dementia?
Dr. Russell Blaylock, a neurosurgeon, neuro-research coordinator, health practitioner, and lecturer, was one of the first to put the pieces together. When it  comes to the root cause of brain cell death, he cites three main culprits:
cell starvation, when nutrients and hormones cannot get to the head brain
immunoexcitotoxicity, or super-hyper inflammation
a combination of both of the above
as the cause of death for various brain cells.
There are several triggers to this starvation and super-hyper inflammation, but we can focus on seven, based on the findings of Drs. Blaylock and Dale Bredesen.  Dr. Bredesen was the first physician to publish a solution for the reversal of cognitive impairment. This knowledge, combined with studies and theories of other doctors (Drs. Edward Group, Datis Kharrazian, Thomas Lewis, Charles Gant, Alessio Fasano, Sidney MacDonald, Tom O'Bryan, Tom Suit, Raphael Kellman, David Perlmutter, Mark Hyman, Elizabeth Boham, Frank Lipman, Drew Ramsey, Ann Hathaway, and many others) can lead us to some long-sought answers about dementia.
The following seven triggers, experienced separately on occasion but mostly in combination, are the leading causes of brain starvation and super-hyper inflammation in the brain:
The 7 Triggers to Alzheimer's and Other Types of Dementia
toxins: aluminum, mercury, and fluoride, herbicides, insecticides, and fungicides
lack of nutrients
you stay sick, serious long-term infections
trauma, high ACE score, stress, depression
historical, consistent lack of sleep
no cellular energy
giving up on the challenge to age healthfully
Considering the wide array of causes, it is no wonder that there is not one magic pill or miracle cure to rid the world of dementia. That said, just as there are multiple causes, there are a lot of options to reverse Alzheimer's and other forms of dementia.
Cross-referencing these triggers with key lifestyle factors in the Blue Zones, where dementia does not seem to be a problem, we begin to understand why our parents and grandparents are afflicted with the disease. Not only that, but we can also determine where we are in terms of probability.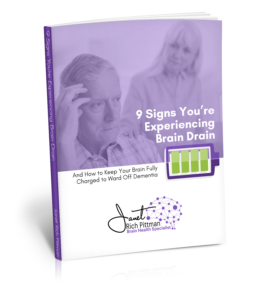 For ways to discover your susceptibility to these triggers and advice on fighting them so you can enjoy long-term good brain health, I encourage you to read my ebooklet 9 Signs You Are Experiencing Brain Drain and How to Keep Your Brain Fully Charged to Ward Off Dementia. Get the booklet here. 
Helping you keep your memory, enjoy good brain health, and age successfully, I look forward to communicating with you again!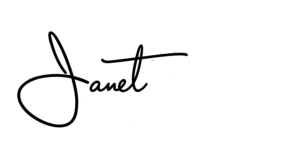 The purpose of this information is to convey knowledge. It is not intended to diagnose, treat or cure your condition or to be a substitute for advice from your main healthcare professional. Sincerely, I wish you and yours the very best in brain health.        www.JanetRichPittman.com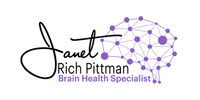 [1] Pubmed.com, National Library of Medicine Database
https://janetrichpittman.com/wp-content/uploads/2018/05/3-e1526673266967.png
512
1024
Janet Rich Pittman, SCALA, CDP
https://janetrichpittman.com/wp-content/uploads/2018/02/JanetRichPittman-300x159.png
Janet Rich Pittman, SCALA, CDP
2018-05-15 17:02:26
2018-11-14 22:58:21
Why Our Parents and Grandparents are Coming Down with Alzheimer's (and other dementias too) Will We Be NEXT?