Explanatory List of Brain Diets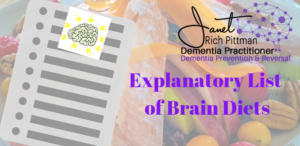 Here is a list of brain enhancing diets.  The recommendation for my Gut in Gear participants is based on their current cognitive abilities and is tailored to them depending on THEIR microbiome, lifestyle, genes, health condition and motivation.  My suggestions are a combination of many of these diets.
MEND
Metabolic Enhanced Neurodegerative Diet or Mind Exercise Nutrition Do It,
Combination of a Paleo and Keto diet
https://sciencebasedmedicine.org/mend-protocol-for-alzheimers-disease/
DASH
Dietary Approaches to Stop Hypertension
Various servings of specific all natural foods from U.S.-based National Heart, Lung, and Blood Institute
https://healthyeating.nhlbi.nih.gov/
MIND— Mediterranean-DASH Intervention for Neurodegenerative Delay
Eating specific all natural foods per a scheduled number of times a day or week.
From Tufts University
https://www.nutritionletter.tufts.edu/issues/14_6/current-articles/MIND-Diet-for-Better-Brain-Aging_2413-1.html
Mediterranean
Eating primarily plant-based foods, such as fruits and vegetables, whole grains, legumes and nuts. Replacing butter with healthy fats such as olive oil and canola oil. Using herbs and spices instead of salt to flavor foods. Limiting red meat to no more than a few times a month.
https://www.mayoclinic.org/healthy-lifestyle/nutrition-and-healthy-eating/in-depth/mediterranean-diet/art-20047801
Paleo-Cave Man diet, all natural foods around paleo times.
https://paleoleap.com/paleo-101/
Keto-Ketogenic Diet—low carb, high fat diet.
https://www.healthline.com/nutrition/ketogenic-diet-101
FMD-Fasting Mimicking Diet
1100 dropping to 800 calories a day for 5 days to mimic a water fasting diet.
From Dr. Valter Longo
https://valterlongo.com/fasting-mimicking-diet-longevity/
Longevity Diet
Eat whole grains and high quantities of vegetables (tomatoes, broccoli, carrots, legumes, etc.) with generous amounts of olive oil (3 tablespoons per day) and nuts (1 ounce per day).
From Dr. Valter Longo
https://valterlongo.com/daily-longevity-diet/
Nordic Diet
Eating that focuses on locally sourced foods in the Nordic countries — Norway, Denmark, Sweden, Finland, and Iceland. … Compared to an average Western diet, it contains less sugar and fat but twice the fiber and seafood.
https://www.healthline.com/nutrition/the-nordic-diet-review
Atkins—low carb diet
From Dr. Robert Atkins
MAD (current 21century)  Modern American Diet
SAD (current 21century) Standard American Diet
To figure out which diet is best for you and your brain health…click here.
Or if you want to quickly talk, for free, about how to resolve your brain health issues click here to schedule an appointment.
The purpose of this information is to convey knowledge. It is not intended to diagnose, treat or cure your condition or to be a substitute for advice from your main healthcare professionals. Sincerely, I wish you and yours the very best in brain health.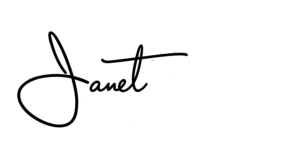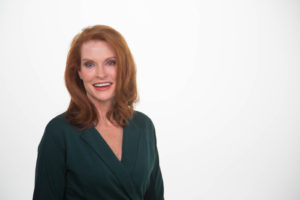 Janet is a Certified Dementia Practitioner, a Masters Health and Wellness Coach specializing in Dementia and former Dementia Healthcare Administrator.  After years of being at the bedside, holding your mother's hand trying to caress the dementia away,  Janet immersed herself in brain research.  Now Janet is on a mission to power up people's brains to prevent Alzheimer's and other dementias, even reverse cognitive impairment.  Learn more about Janet here.
https://janetrichpittman.com/wp-content/uploads/2019/06/Explanatory-List-of-Brain-Diets-faded-2.png
350
720
Janet Rich Pittman, SCALA, CDP, MCWC
https://janetrichpittman.com/wp-content/uploads/2021/08/JanetRichPittman-Web-Header-01-1030x178.jpg
Janet Rich Pittman, SCALA, CDP, MCWC
2019-06-05 14:51:49
2020-10-01 11:24:23
Explanatory List of Brain Diets