Diets in Action – Diets for Brain Health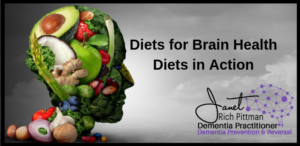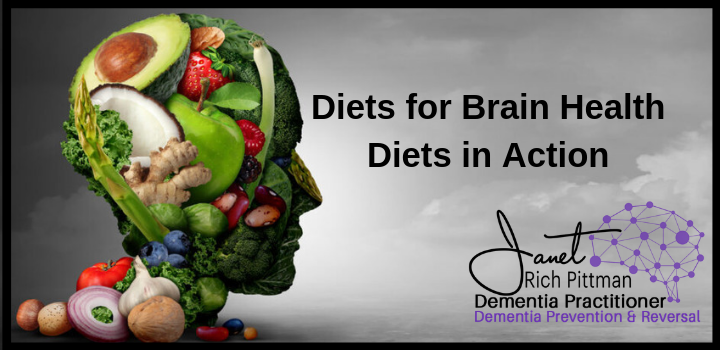 Anne was caring at her home for her mother suffering from beginning Alzheimer's said she would do anything for her mother but needed to keep her career moving. A strict ketogenic diet was my advice for the beginning of her mother's protocol reversal program yet Anne did not know what a keto diet was nor did she have time to cook one. The first step in getting her mother's cognitive decline stopped and leveled out was 1. hiring home health care to help with activities of daily living and activities in the protocol plan and 2. subscribing to delivery of fresh Keto meals and snacks.
Bob's cognitive impairment was slight, not full blown Alzheimer's yet along with some other issues, his LP-IR score was high and his sdLDL was too high so the ketogenic diet was not for him. He was a sugar fiend and his leptin receptors shot, they were non functioning. So while difficult at first, we did get him off sugar, licorice tea was most helpful, and got his gut in gear with specific individualized dietary tools and methods which paved the way to work further on his cognitive impairment.
When I am counseling folks in my Brain-in-Gear Program, I start by addressing their symptoms based on the food they eat, their microbiome, their personality and their life activities. Again, this is a START.  For the Brain-in-Gear Program I spend an entire 12 months with them fully addressing their bodily health and cognitive performance through a developed protocol for them, an individualized and specifically tailored plan of action created just for them. (My actions are based on my experiences as a dementia administrator, dementia practitioner and schooling under Dr. Dale Bredesen, the first MD research scientist to scientifically reverse 109 of 110 patients/participants under clinical trials suffering cognitive impairment in 'beginning to middle' Alzheimer's.)
Developing an individual's protocol begins with what they eat. And after learning what they eat I suggest making small changes inroad to getting their gut in gear.
And when their gut is indeed in gear, when they have a clean gastronomic palate, a 'clear as can be' canvas of operation, a foundation of health we both can count on, I then can help further identify the cause of the cognitive weakening and other symptoms they are experiencing. That's right, a precursor to my Brain-in-Gear Program is my Gut-in-Gear Program.
No cookies after every meal? No nightly ice cream before bed? Drinking only once or twice a week? Yes, this first step, making the small dietary changes, is the hardest. (Yet I make it easy though, first with substitutions.) And for most, making these changes is huge, even significantly life altering. But that is what we want, correct? A definite change in our cognitive behavior, a return to 'normal' thinking. Our brain function has changed for the worse, now we must change it back to the better.
And that change does not happen out of the gate. A colt is not going to win the Kentucky Derby without winning a few preliminary races.
So to get the gut in gear for cognitive impairment, it's a slow steady process. It is very doable with smart choices and easy substitutions. Taste buds change, you begin to feel the difference. Pretty soon the good food choices start to crowd out the bad where there is no question of what to eat.
Here's where I suggest people start. I've put it together in an easy to consume (get it?) Gut in Gear guide with 5 easy swaps to better health – it's a start!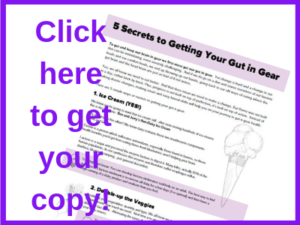 GET THE GUIDE here NOW
But, the temptations to fall back to the old ways of eating are vast and easy, hampering morale and confidence. Plus you really don't know exactly what to eat or not to eat.  Again, I address that in the full Gut-in-Gear Program.  You try new things, new substitutions.  But in this beginning, after your first taste of horrible diary free ice cream, you will never want to try anyone else's dairy free anything again, so I am going to give you my Super Secret 5 Best Tips for Getting your Gut-n-Gear.
It's a guide of examples in making lateral shifts. And it's a start. If you would like more help in truly getting your Gut-in-Gear so to firstly get and then keep your Brain-in-Gear. investigate participating in my Gut-in-Gear Program.
On this 5 Secrets substitution list,  enjoy what you find, and tell me how/if they relate to you. Also, share any other substitutions that have worked for you.
Helping to keep your memory, age successfully and have good brain health, here's to YOUR good brain health!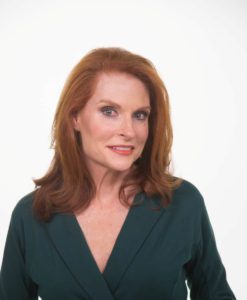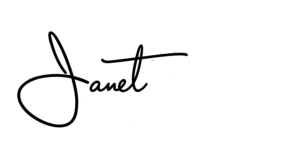 The purpose of this information is to convey knowledge. It is not intended to diagnose, treat or cure your condition or to be a substitute for advice from your main healthcare professional. Sincerely, I wish you and yours the very best in brain health.  
Janet is a Certified Dementia Practitioner and former Dementia Healthcare Administrator.  After years of being at the bedside, holding your mother's hand trying to caress the dementia away, Janet immersed herself in brain research.  Now Janet is on a mission to power up people's brains to prevent Alzheimer's and other dementias, even reverse cognitive impairment.  Learn more about Janet here.
https://janetrichpittman.com/wp-content/uploads/2019/06/Diets-for-Brain-Health-Diets-in-Action3.png
350
720
Janet Rich Pittman, SCALA, CDP, MCWC
https://janetrichpittman.com/wp-content/uploads/2021/08/JanetRichPittman-Web-Header-01-1030x178.jpg
Janet Rich Pittman, SCALA, CDP, MCWC
2019-06-06 15:45:31
2019-09-09 19:41:00
Diets in Action – Diets for Brain Health