8 in 2018: YOUR Top Questions Regarding YOUR Brain Health and Dementia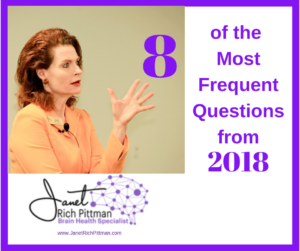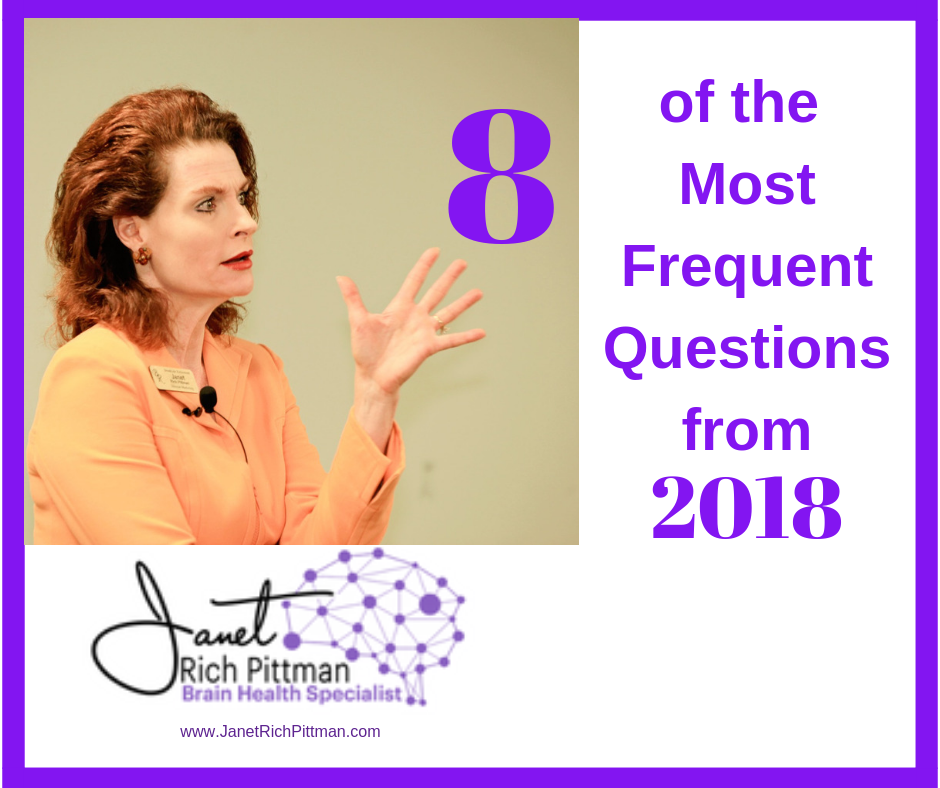 8 in 2018: Answers to YOUR Most Frequently Asked Questions:
1.In the Q&A after your speech, you advised never to retire. Could you go over that again.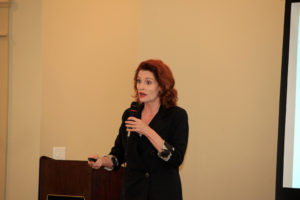 Janet: That's right. Never retire your brain, always keep it working for the rest of your life, specifically working to solve new problems or challenges. From shopping in a new grocery store to learning a foreign language to finding a tutor for your son/grandson, these are brain exercises.
Brain exercising is putting new information on top of old for an accomplishment, for a result. Here is the ketch: you have to have many of these new accomplishments EVERY DAY. How many? No one knows for sure. The only science I have found behind this is that college educated individuals and/or those devoted to continuing education and the usage of it, mentally last the longest.
Also to ensure your mind keeps churning all of its gears, one must have something to sink their teeth into, a purpose in life, a reason to get up and go every morning. Fine if you want to 'retire' from your current job. We all need a change of pace, a different routine, less stress. But…
Light two of your brain candles with one flame…get a new job!! This way, you never retire your brain and you always have a challenge before you. Brain challenge/brain exercising examples at your new job: learning a new software, understanding new company procedures and keeping up with the names of all the new employees. Plus, you'll have some fun mad money! Never RETIRE!!!! Here is 1.47 minute video I made talking more about what happens when you finally get there, get to retirement.
Here is an article I wrote describing the number 1 side job you need to get to help your brain.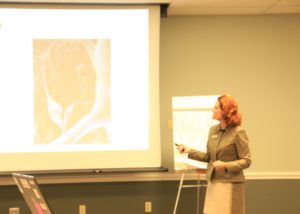 2. Hello, I watched your advice on the news and you brought up balancing hormones so do you believe in taking bio-identical hormones? would that really make a difference? I really am scared to take those because of breast cancer but I noticed my memory is getting worse, I cannot speak the words I want during conversation.
Janet: Yes, I believe in bio-identical hormones, at any age FOR ANY GENDER. But you must take what your body is missing, not just a prescription for any and all. You are right, too many hormones can cause cancer, but what they don't tell you is that not enough hormones can cause cancer AND memory problems.
And about needing to stop and think about what to say, the words you are thinking not coming out of your mouth…that tells me your synapse brain cells are weak. This symptom is a direct correlation to hormone imbalance, poor nutrition and lack of sleep, each or a combination of them all successfully balanced. There is no cure for memory loss and mental weakness BUT there are actions, primarily a combination of, that you must revolve your life in and around so to better your mental health. Here is a signature article I wrote, How to Keep Our Brains Young.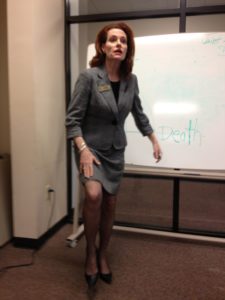 3. My parents are both in good physical health, my dad is 85 and my mom is 78. Do you think their diet of high carbs, processed foods, white bread, and sugar is contributing to their brain drain?
Janet: Quick answer is yes. To understand why, take about a 20 minute read of my most popular give away 9 Signs You're Experiencing Brain Drain with Ways To Keep Your Brain Fully Charged, here.
Perhaps all three of you could read one of my signature articles I wrote, We Are Starving our Brains and Don't Even Realize It  or Why Are Our Parents and GrandParents Coming Down with Alzhiemer's and Other Dementias.
All these writing talk about the 6 WHITE Brain Damaging Foods we consume wholeheartedly without knowing in our daily diets…white sugar, white flour, white rice, white potatoes, white corn (it is white when processed after it's endosperm, shell, is taken away) plus these last four turn to sugar, along with all milk products (this includes cheese).
For more on the Brain Damaging Foods, here is another article.
Your parents might enjoy 5 Secrets to Getting Your Gut in Gear, found here also.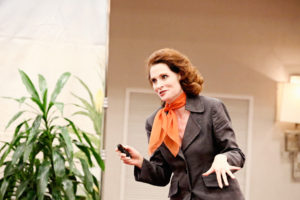 4. "I eat whole grain wheat, rice, oats & flax meal. If I quit putting milk with these, what can I use? What do you eat for breakfast?"
Janet:  I suggest no wheat whatsoever, wheat contains most gluten of our food consumption and in a phrase summary, gluten opens/dissolves the lining of our small intestine, for everyone who consumes wheat, celiac disease or no. Thus, partially digested food seeps out of our intestines, seeps into our blood, digests the lining of our arteries, breaks the blood brain barrier and eventually causes hyper inflammation. As we are all different, with different DNA and different immune performance levels, bodies react differently. Dr. Alessio Fasano, brought over from a University in Italy by MIT who now practices at Harvard discovered this and wrote a book on it, Gluten Freedom.
For rice, only wild and brown, if brown, try to get the sprouted, it is just easier on the digestive track. Oats have a hint of gluten, go easy on them and get oats that have not been processed, get preferably steel cut, 2nd choice get old fashion. When they are processed their endosperm (shell) is removed from being heated and bleached (in order to cook quicker and look nice) which pulls away the natural nutrients from oats.
Flax meal, great!! Good omega 3.
For your oatmeal, you could also stir in a bit of almond butter, honey, molasses or maple syrup—just a bit though, sugar, any type eventually is bad for you. We cook steel cut oatmeal in filtered water and add Extra Virgin Olive Oil (great antioxidant and is needed to help with sticking, you could add either grass fed butter or coconut oil) and Vietnamese Cinnamon, the taste is so much better
For my breakfast: I stick to protein, smart carbs and veggies
Today: I had left over of shrimp casserole, fresh kale from my Dad's garden, carrots and 2 slices of bacon with green tea.
Shrimp Casserole: made with basis of a puree of freshly roasted mirlton or cayote squash mixed with eggs, flax seed meal, sprinkle of tapioca flour for thickening, cajun spiced ghee sautee of fresh shrimp my buddy caught, not farm raised shrimp.
Yesterday's Breakfast: kale (from my Dad's garden), carrots, egg muffin, bacon, celery with almond butter, green tea
Egg Muffin: onions, garlic, celery, green red and yellow bell pepper sauteed in bit of bacon grease placed in butter greased muffin tins (6 muffin sections in tin) and topped with stirred up eggs, baked till set and put in refrigerator.
Day before: kale (from my Dad's garden), left over baked chicken with fresh herb butter sauce, carrots, ½ green banana, green tea
My carbs: I only eat smart carbs which are complex carbs: all vegetables, occasional beans, wild and sprouted brown rice, quinoa rarely (once month–gluten issue).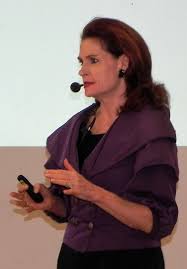 5. I can't believe that you eat bacon or grease.
Janet: I personally eat a ½ keto, ½ paleo diet, no gluten and low low fruit diet. Your brain is mostly fat, it needs fat to help the nutrients swim all around and be accurately distributed. Good fat is necessary for good brain health, but you cannot combine it with bad fats like trans fats or hydrogenated oils (canola, sesame seed, corn, etc.). It's like putting water in oil, it doesn't mix, digest, assimilate into your cells correctly. The only fats you should be eating are grass fed natural animal fats (butter and fat in meats), olive oil, coconut oil.
A marathon runner, age 62, I counseled was having memory issues and finance issues, he could not understand numbers any longer. After a quick review of his lifestyle and diet he was a perfect Alzheimer's prevention specimen except for his diet. For years, decades, he followed a low fat, high complex carb, high protein diet. Insulin resistance was a contributing factor but mainly, the lack of fat took it's toll on his brain. After some key supplements based on further testing and a strict ketogenic diet (diet high in fats), he now tutors his coworkers in spread sheet formula development.  He was starving his brain of fats.   To learn more you would enjoy an article I wrote on Starving Your Brain.
Mr. Marathon Runner: at 62, he still runs by the way.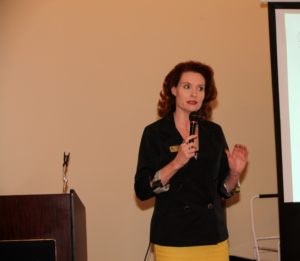 6. You say go super low on sugar, what about fruit? I eat a lot of fruit.
Janet: Sugar…consumption and processing/digestion of it truly depends on each person. Just keep it as low as possible and only from natural sources, fruits, honey, maple syrup, molasses, homegrown stevia leaves. Just know ball park your body and brain can only successfully process/digest 5-8-10 grams sugar a day. And don't sleep on it. If you consume fruit or any sugar, consume as little as possible and be sure and consume before 2pm so to process all your sugar and not interfere with your sleep.  Need help sleeping and staying asleep? If my 19 Ways to Get to Sleep and Stay Sleeping flyer does not do the trick, email me and let's schedule some one-on-one time together.  We can get you sleeping!
7.You say we must do physical exercise, brain exercise and eliminate chronic stress. I walk about 30 minutes daily when I do my praying. I assume this helps as praying reduces my stress. Because I am busy with e-mail reading & correspondence, and reading 2 Christian magazines is this a good amount of reading?
Janet: Just make sure you get some huffing and puffing in that walk, God will approve!!!. Extra oxygen up in your brain along with a faster than normal beating heart activates your Brain Derived Neurotrophic Factor which gets your glia cells reproducing faster and your synapse linking those neurons together and your stem cells creating more neurons! In other words, exercise creates new brain cells and also strengthens and matures new brain cells which keeps your train of thought flow and your memory pop up as instant as possible. Here is a quick 2 minute read of an article I wrote on exercise creating new brain cells.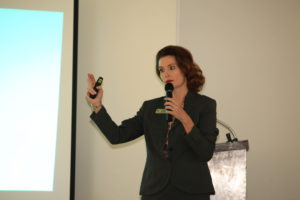 Also, in regard to all that Christian reading, please understand the difference between reading for entertainment or fact finding vs. reading for an accomplishment. You and your brain have to do something–accomplish something with those facts, put the facts to use!! Reading is nice and okay but only goes so far. Reading is a tool to create new brain cells.  Here is an example of how it work:  you are a history buff and lecture here and there so you read to understand why the Brits almost won the War of 1812 and if it had not been for their loss of the Battle of Mobile Bay in Mobile Alabama we, the US, might still be under British rule! You then use that newly learned trivia in your new lecture. A question comes up about the pirates, so you go back to your sources, read some more and are prepared for the next lecture to answer the questions! For more on brain exercising, review question #1 above or click here to quickly get to it.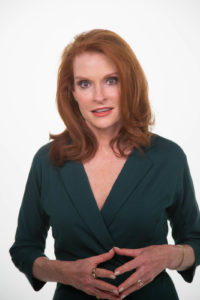 8.  What are the first signs of dementia that you notice?
Janet:  It is not Memory Loss! Memory loss is what most folks acknowledge with beginning dementia, yet it is low on the list. Gait is the primary indication dementia has been percolating upstairs and is working to set in. Are you or yours taking the streets like a New York Fashion Runway or are you shuffling your walk, barely lifting your feet from the floor? Poor balance and a weak gait are the leading signs of dementia. I created a 45 second video here on the first thing to look for in dementia,
For Brain Health Members exclusively, I have here a check-off list for the Top Signs Your Cognizance is slipping.
If you have any additional questions, feel free to email me, Janet@JanetRichPittman.com.
Helping you keep your memory, age successfully and have good brain health, I'm YOUR Brain Health Specialist,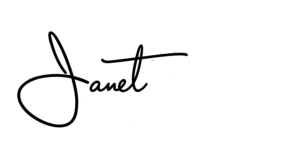 Janet Rich Pittman
https://janetrichpittman.com/wp-content/uploads/2018/12/Top-8-of-2018-Graphic.png
788
940
Janet Rich Pittman, SCALA, CDP, MCWC
https://janetrichpittman.com/wp-content/uploads/2021/08/JanetRichPittman-Web-Header-01-1030x178.jpg
Janet Rich Pittman, SCALA, CDP, MCWC
2018-12-09 21:22:23
2019-06-07 17:34:27
8 in 2018: YOUR Top Questions Regarding YOUR Brain Health and Dementia